Contact Us
7988 Robben Rd
Dixon, CA 95620

Mon – Fri . 8:00 am – 5:00 pm
Call at least 24 hours before you want to lay the sod. We can give you better service toward the first of the week since we have a lot of weekend customers.
You tell us…
1. The amount of sod you need in square feet.
2. The date you want delivery or pick up.
3. The address where sod is to be delivered.
Sod Delivery Pricing:
Minimum order of 480 sq feet for delivery service.
(excludes deliveries on Sundays)

Cost of deliveries under 960 sq. ft.

Sonoma County – $75
Solano County – $75
Sacramento County – $75
Bay Area – $75
Lake County – $85 under 2000 sq. ft.

Free local sod deliveries for orders over 1000 sq. ft.
Our staff is standing by to answer any questions.
Call (800) 734-8859
Please call Park Avenue Turf for sod lawn pricing, installation services, or to answer any questions you may have regarding commercial or residential lawn care and repair. If after hours submit the form below and a professional sod specialist will get back to you as soon as possible.
Measuring & Ordering Sod
To get started now, measure the area of sod lawn needed and subtract areas not to be sodded. Area equals length times width. Whatever is left over is the amount you should order in square feet. It is not wise to cut corners. Give yourself a generous surplus for patching and extras. We have provided calculators below, making it easier to find out exactly how much sod you will need to order to fill your desired area.
Square or Rectangle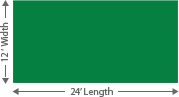 [CP_CALCULATED_FIELDS id="7″]
Right Triangle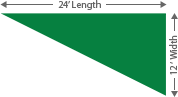 [CP_CALCULATED_FIELDS id="8″]
Circle, 1/2 Circle, 1/4 Circle

[CP_CALCULATED_FIELDS id="6″]