Sod For Commercial Lawns
Sierra Sod is one of the largest and oldest providers of commercial lawn services in Northern California. Adding quality sod lawn to local commercial construction and renovation projects requires the finesse and professionalism that can only be perfected by experience. Sierra Sod has that experience and we will help you get the job done right the first time and be there when you need expert lawn care advice.Commercial Sod Lawn Services for:
Landscapers
Business Complexes
Apartments
Schools
Parks
Golf Courses
Athletic Turfs
Since 1986, Sierra Sod has been proudly producing the finest sod varieties and supplying them to local contractors and landscapers throughout the Bay Area and the Sacramento, Solano, Sonoma and Lake Counties. As sod farmers, we know our grass and our region. That's why we can offer landscapers, businesses, schools, parks, golf courses, and athletic fields the best turfs at the most competitive prices. Committed to quality product, consistency, and outstanding performance, we are confident in our commercial lawn services.
If you're looking for a sod supplier who understands the special needs of larger projects and who is dedicated to making these projects turn out right the first time, contact Sierra Sod today!
Sod Delivery Pricing
Minimum order of 480 sq feet for delivery service.
(excludes deliveries on Sundays)

Cost of deliveries under 960 sq. ft.

Sonoma County – $75
Solano County – $75
Sacramento County – $75
Bay Area – $75
Lake County – $85 under 2000 sq. ft.

Free local sod deliveries for orders over 1000 sq. ft.
Additional Services Available
Installation available on any size job

Fertilizer & Seed available on every order

Dedicated Sales Representative to work with you and your customer

7 days a week to most areas

3 different sod farms to service your customers – Dixon, Sebastopol, and Butte City, California

Morning deliveries on most orders
Additional Information
Roll Size- 24″ wide X 48″ long = 8 sq. ft. Sod Thickness-5/8 to 3/4″ Sod Weight- 45 to 50 pounds per roll. Our sod is harvested in eight square foot rolls, which are lighter and easier to install. We also have the ability to harvest and install 30″ wide big rolls for large-scale installations.
Measuring & Ordering Sod
To get started now, measure the area of sod lawn needed and subtract areas not to be sodded. Area equals length times width. Whatever is left over is the amount you should order in square feet. It is not wise to cut corners. Give yourself a generous surplus for patching and extras. We have provided calculators below, making it easier to find out exactly how much sod you will need to order to fill your desired area.
Square or Rectangle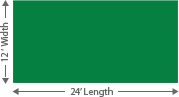 Right Triangle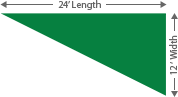 Circle, 1/2 Circle, 1/4 Circle

For Local Orders Over 1000 sq/ft. Call at least 24 hours before you want to lay the sod.
Our sod prices are really down to earth!